Hi Everyone
Over the years Children are Angels from Heaven has has tried to help many children, Rumpa & Soaib being two of them at the Indian Institute of Cerebral Palsy. IICP is a great place were hundreds of children with Cerebral Palsy get help every single day from a very warm, caring and loving staff.
In 2017 I visited Rumpa's house with IICP head Social worker Mausumi Halder and met Rumpa's Mother and Grandmother and saw that she lives in a building with many stairs for her to get up to their small apartment on the second floor. Each day it is huge struggle to get Rumpa up those stairs as there are no lifts of any kind. As well as transferring Rumpa to a special chair that she sits in in the apartment. That visit truly touched my heart. I felt so sad but there was nothing that I could do at this time for Rumpa because of the many stair cases from the ground to the apartment. So for now I can just support her and help her to go to School.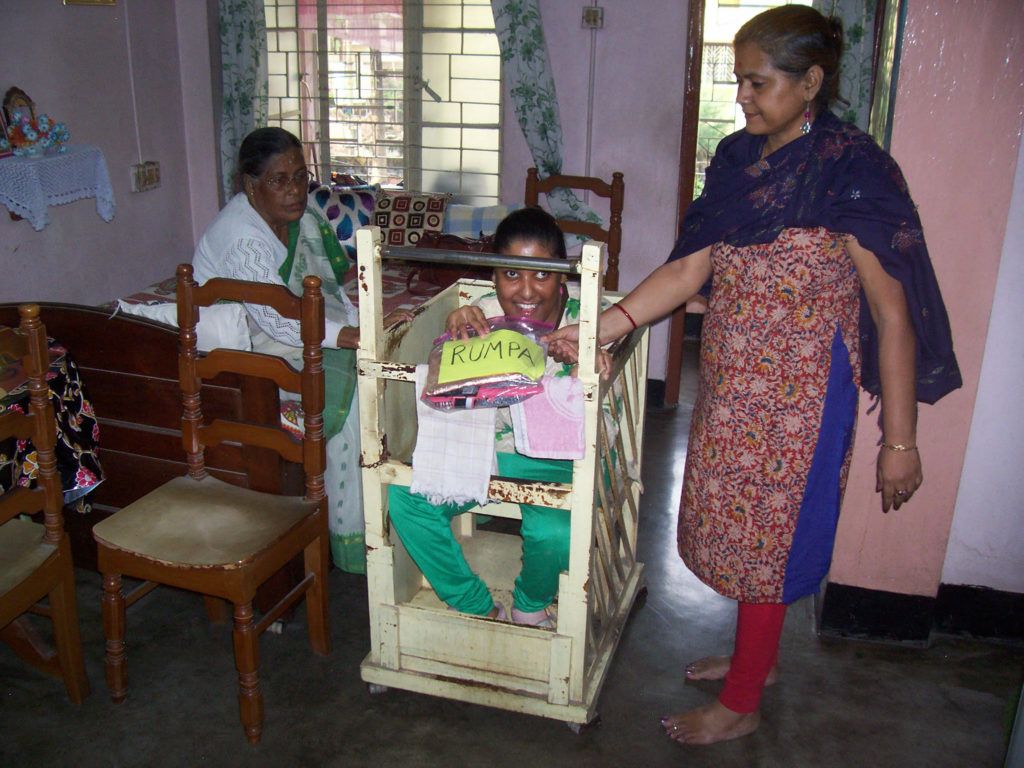 In Dec 2018 I wanted to visit Soaib at his home. Once again Mausumi was willing to help and escort me to his home to meet his Mother and Father. After a short drive by car we reached the area that Soaib and his family lived in. To get to his house we had to cross a small bridge that a school bus or large car could not fit on so we walked about a quarter of a mile until we reached the home. When Mausumi and I waked through the gate the Mother and Father came to give us a warm welcome. The parents do not speak English so Mausumi interpreted our conversation and we had a very nice time sitting in some chairs in the yard.
I will not get into detail but this is Soaib's Home and the parents are poor. The parents do the best that they can every day to look after their Son as well as the household buying food and cooking. The Dad is a tailor and works every day to try to look after everything. It is not easy for him or his wife.
During my visit with the family Soaib was home from school sick, so I went in the small room to see him with his Mother. I said hello and waved to him and he just looked at me with a big smile.
Before Mausumi and I said good bye to the Mom and Dad I gave them some chocolate candy , a blanket and a Superman T shirt for Soaib.
As Mausumi and I walked back to the small bridge to the Main Road I could not stop thinking about my visit. It was so Happy yet so Sad. When we got to the small bridge I asked Mausumi how does the Mother and Father get Soaib to the Main Road to get Soaib on the School Bus each day because he has Cerebral Palsy and can not walk.
I will never forget her answer to me . She said the Father carries him to the bus in the morning and in the afternoon when the bus comes back he carries him to his house.
I said to Mausumi that is unacceptable and we have to try to help that family. Mausumi suggested to buy him a special wheelchair that will roll on rough roads. I said Mausumi as long as you and IICP work with me, I am with you 100% and lets look into all the details to start the project for Soaib.
The project did not take long to start as Mausumi was all over it. She bought the finest new wheelchair that she could find and had it delivered to IICP.
At IICP the in house Carpenter modified the wheelchair with an insert so that it was not to big for Soaib and that he would fit into it and be comfortable as well as safe.
To get to the end of the story it took 5 months to get everything done from A to Z and here are some Before and After Photos and Videos that will show you of how everything worked out.
IICP and Mausumi did a wonderful job with every part of this small project. I know that they worked very hard and looked after every detail of it. The Mother and Father as well as Soaib were so very very Happy with the new wheelchair. It will make their life so much easier.
In the end it was a wonderful project of people from both sides of the world reaching out to help a family in need. Here is the Thank You letter that I was sent to me from IICP to Children are Angels From Heaven. Dear Mr Obrien, I want to express my appreciation for your generosity. You truly did a wonderful job. Your commitment is incredibly helpful. Your generosity will make an immediate difference in the lives of Soaib and his family. Thank you for your kindness. Please accept the scanned copy of the provisional receipt, sent by my colleague, Ms Mausumi Halder. Once the money is credited to our account we would arrange to send you the official receipt. Thank you from all of us at IICP! With best regards Purba Bose
Please check the videos below to get the true picture of the story.