Bicycles for Children, by Anwesha Bhattacharya
Mrs. Mom Banerjee, my neighbor in Bangalore, India, runs a non-profit NGO called Samridhdhi Trust. This Trust manages two schools for underprivileged children in suburban Bangalore.
She started the first school with the children of contract labourers and domestic helps, who have come from different parts of India, and stay around the school grounds. They stay in very poor conditions, often a big family sharing a small room, with no proper sanitation. Many of the children suffer from diseases and malnutrition. Most of the parents cannot afford to send the children to mainstream schools or are not aware of the procedures. Since this school is free, most parents agreed to send the children here, as they understood the importance of education. Many other parents wanted to keep their children at home so that they can help around the house or to have them bring home a little extra money from doing odd jobs. Mom Banerjee spoke to these parents and convinced them of the importance of sending the children to school and the significance of basic education. Most of them agreed. Teachers were hired and basic books and stationery were bought or donated by volunteers.
Gradually, as word spread about the school, more and more children wanted to join in, from other parts of the city. To keep up with the demand, a second school was opened. Gradually, the possibility of putting these children in mainstream schools was considered. So the little schools became sort of Bridge Schools, where children were prepared for mainstream bigger schools. Many of the bigger schools were ready to provide scholarships to smart students.
The children worked really hard and did their lessons, while also helping their parents around the house. Gradually, many of them got admissions in bigger, more prestigious schools on full scholarships. But it was still important to have them continue doing well in the bigger schools. So Mom promised them that whoever could score 80% or more in the school exams would get a bike as a prize. The bikes, apart from being exciting for the children, would also be very useful as the children walk long distances to go to school and other life skill training programs, in all kinds of weather. Now 80% is a really good score. So it is a big wonder than 18 students actually ended up scoring over 80%, two or three even crossed 90%.
I told Raymond about this and after a fruitful discussion, Angels came forward to sponsor this project. Initially, we were looking into the possibility of buying new bikes for the kids. The cost was calculated as $960 for 18 bikes. It was later found out that 18 second-hand bikes were available for $540. As these bikes were in perfect condition, we went ahead and bought those, thus saving the remaining money for future important projects.
The bikes were given away to the children at a small party, which was Raymond's idea, and all the children of the two schools were invited. The winning children cut a big cake while their friends applauded and cheered and everybody was given ice cream and soft drinks. This was done to make the bike winners feel extra special and also to encourage the other children to do well.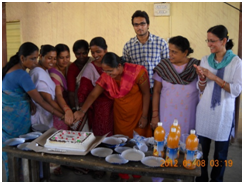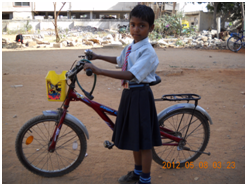 This is a short follow up on the above bicycle story by Ray OBrien. The reason we did not buy the new bicycles was that the Sabera Home for Handicapped children wrote me and asked for needed emergency funding to care for the children. Anwesha & Mom Banerjee found a way to get beautiful used bicycles for the children in Bangalore and save money to help the Children at Sabera in Calcutta. With this extra effort by Mom and Anwesha to purchase good used bicycles, Children are Angles from Heaven was able to send the Sabera Home for Handicapped Children a check for $ 420.00 from all of us. If you look at the numbers we accomplished two projects for the price of one, helping many more children in need.