Donations For Kentucky Tornado Relief
I'm sure most of you have seen the recent Tornado damage in Kentucky in the news. I could not just sit here and do nothing, so I got on my computer and located a very nice church called St. Jerome's in Fancy Farm that was willing to work with me to try to help the Kentucky people in some small way. The damage is so widespread and severe that everything people had is gone. 
The Mayor in one town said he was going to go door to door to check on people but there are no doors or houses anymore to go to. 
I had many of your donations in storage at my house for my next trip to India but I felt the need was so great in Kentucky that I brought all of your donations that I had stored in large drums into my living room as it was raining outside at that time. 
Patty and I packed everything all day long. Your donations are all beautiful and the people of Kentucky needed them right now.  
Below you will see some of the donations and I am sure many of you will see something that is yours. There are many beautiful clothes, toys, baby clothes, hand sanitizer, masks, shoes, boots, and so much more, even many new Christmas stockings.
If it was not for the help and support of many people who support Children are Angels from Heaven, this emergency donation project would have never happened. 
I have also included a small monetary donation to help the people from all of us through the church..
If anyone has any questions please call or email me. I am responsible and accountable for everything.
Here are a few photos of your donations getting packed and ready for Kentucky. 
Marie Woodrum from St. Jerome's church and myself shared some very interesting Emails throughout the process. Marie told me that the town of Mayfield, Kentucky, was only 10 miles away and that the need was very great at this time. 
I asked Marie if I sent our Angels donations to her at the church, would she send a photo back to me so I can see our 6 donation boxes going from my hands in New Hampshire to their hands in Fancy Farm, Kentucky for the people in need.
Marie was fantastic and understood what I was asking and she said "Yes Ray, I will make sure that you get a photo of your boxes in our hands. Sister Martha Keller of the Church will gladly look after everything and give your donations special attention."
With that, our boxes were packed and sent as you can see in the pictures above.
Our donation boxes were sent from New Durham NH to Fancy Farm KY and arrived in about 4 days. I sent our donations the fastest way that I could using the USPS so that the price would be reasonable .
Below you can see our Children are Angels Donation boxes in Sister Martha's hands along with two nice letters from Marie.
I will also include a photo and video of the destruction in Mayfield, Kentucky, so you will understand why the need was so urgent.   
Thank all of you for helping the people in need through Children are Angels from Heaven and Thank You St Jerome's for being a beacon of light with hope, to help the people in immediate need from the destruction of their homes and community from the tornados.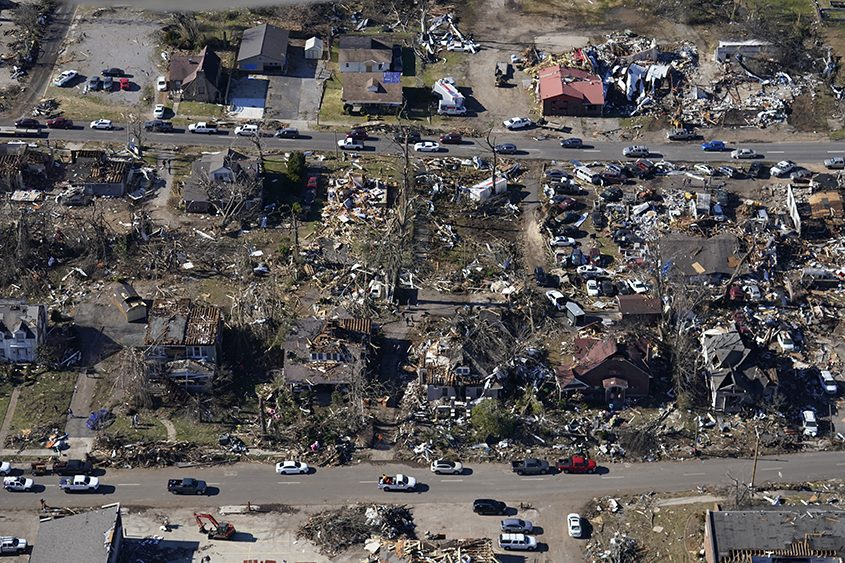 Clink on the link below and you will see the damage in Mayfield Kentucky
Because many people wanted to send more donations, I wrote back to Marie and asked if they would be needed..
Below you will find a nice letter from her and just what the needs are now (gift cards & money) as I write this mail to you.
Ray
Thank you again for your donation.  This is a good problem to have but we are not accepting anymore supply donations. Our facility is full.  We are asking for monetary or gift cards at this time.  I have reminded Sister Martha for the picture and also the person going to post office.
 Thank you so much for the outpouring of support you have shown our area.
 God bless,
 Marie Woodrum
St. Jerome Church
P/O Box 38
Fancy Farm , KY    42039
===================================================
Ray
We are okay the actual tornado touch down in Mayfield about 10 miles from here.  We received no damage.  We are a distribution center of supplies and money for the immediate needs of the people in Mayfield and surrounding area.
Thank you for asking and thank you for your donation and concern.
May God bless you and your organization.
 Marie Woodrum
St. Jerome Church