St. Paul's School Wellesley, MA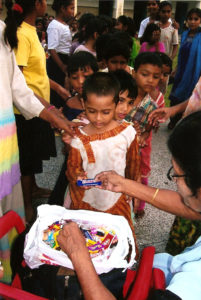 Every year for the last few years St. Paul's School has been a big part of Angels from Heaven. In June at the end of the school year, the children donate many left over school supplies, pens, pencils, crayons and markers. The school supplies are sorted into small boxes and sent to many schools in Calcutta where they are greatly appreciated.
In October at Halloween the children donate close to 200 lbs. of their Halloween candy to people and places in need. It was also sorted and sent to many places here in America and overseas. Below is a list of where the candy was sent.
1. Dana Farber Cancer Institute, Boston, MA
2. Children's Hospital Center For Families, Boston, MA
3. St. Charles Children's Home, Rochester, NH
4. Nazareth House, Boston, MA
5. Walter Reed Army Medical Center, Washington, DC
6. Brooke Army Medical Center, Fort Sam Houston, TX
7. Landstuhl Regional Medical Center, Germany
8. 101st Army National Guard, Iraq
9. Crossroads Women's Shelter, Boston, MA
10. 102nd Army National Guard, Iraq
11. Many children in Calcutta, India
Many thanks to the children and staff of St. Paul's School. You have touched the lives of many people around the world and home.